Dunlop DTM185HD Fully Automatic Tyre Changer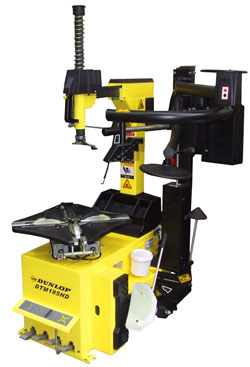 Dunlop DTM185HD Fully Automatic Tyre Changer
A good quality automatic tyre changer with tilt back column. Ideal for standard and alloy wheels, and with the addition of the ART320 Assist Arm this makes an excellent choice.
The Dunlop DTM185HD Automatic tyre changer gives the professional tyre shop a truly, heavy duty machine that is designed to stand up to continuous intensive use, day after day, week-in week-out for years.
Price includes delivery to a UK address.
Features
41mm demount shaft
55mm slider arm
Heavy duty locking mechanism with cover
New style pressure gauges
Stainless steel bead breaker cylinder with quick deflation valve
Robust heavy duty turnplate
Full plastic protection kit for turnplate
Suitable for alloy, low profile and run flat tyres
Technical data
Operating pressure 8-10 bar (116-145 psi)
Clamping capacity 10" - 20" (outside)
Clamping capacity 12" - 23" (inside)
Max wheel diameter 1040mm
Single phase 240 volt
Standard Accessories
Tyre lever
Soap bucket
Full alloy protection kit
Weights and Dimensions
Nett weight 218KG
Gross weight 265KG
Dimensions 1000mm(l) x 1130mm(w)
Download Brochure
Download the Dunlop DTM185HD Brochure
DTM185HD & ART320 Assist Arm
The addition of the Dunlop ART320 Assist Arm to the DTM185 gives the professional tyre shop the facility to make easy work of changing low profile and run flat tyres.
Bolts easily to tyre changer
2 assist roller arms
Pneumatic operation
Easy to use controls
Price includes delivery and installation.
Call us now on 01823 328530 for more details